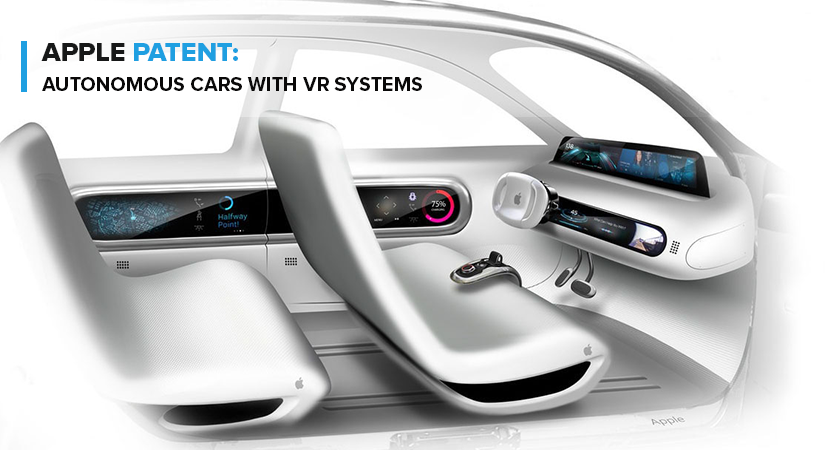 In this era of business and technological advancement, we are all engulfed by the hectic schedules of our daily lives. Anything that gives us even a bit of relief is a savior to us. And what could be a better savior than the autonomous cars? To add a cherry on the top, autonomous cars with virtual reality systems; this is a deadly combination.
Recently Apple has applied to patent a VR system for autonomous cars. The U.S. Patent and Trademark Office has published this really fascinating concept of virtual reality. The Apple Patent is promising to give us a blend of the virtual world and real-world. This could be the most thrilling concept one can think about. You may be sitting in a really little car, but nonetheless, you can imagine yourself sitting in a comfortable limousine. The idea was developed to reduce the motion sickness, however, it will also allow the passengers to have a glance at breathtaking views of mountains or sea or forests or whatever they want.
As per the Apple Patent, the VR in the autonomous cars would be well-coordinated with motion sensors to experience the real-world car movements. It would be solely dependent on the passengers how they want to modify their interior and exterior environments. Imagine visiting the city of vampires, where you have to kill each one of them in order to survive. Horrifying and thrilling?? If the car would stop in real-world for any reason (maybe the traffic lights), virtual world would also not allow the car to move and create suspense.
The Apple Patent is really raising high hopes in people. The VR headsets would be worn by the passengers and they would be able to have a view of whatever place they want. This is indeed going to be a great fun for passengers. We are aware that this amazing concept is just a patent and it won't come into the markets at least in the near future. Anyways, stay updated with the news as Apple may surprise you anytime.