"Painted Trophy: Flame Beholder" (CC BY 2.0) by Benimoto
Dungeons and Dragons' (D&D) influence on gaming is almost unprecedented – any title featuring rogues and clerics, beholders, the squid-headed illithids, and hundreds of other elements owes a debt to the late Gary Gygax's seminal board game.
The fact that D&D has penetrated industries as diverse as online casinos is testament to the hobby's permanence in the gaming industry. In fact, D&D has moved beyond RPG titles and gone on to influence games of different genres. For example, bgo, a bingo and casino gaming provider known for its TV adverts featuring Verne Troyer and the bgo Mansion, carries an official Icewind Dale-branded slot machine, available at bgo.com/vegas. The game, a 5-reel and 30 payline slot, includes a free spins bonus round and centers on a quest to defeat the White Dragon, which is hiding deep inside a frozen cave. In addition to carrying official licensing, the D&D Icewind Dale slot has truly embraced its theme, with dramatic music, four distinct heros of different classes and equipment which will instantly be familiar to all D&D fans.
Although not officially licensed, Fire Queen, another slot machine, also has gameplay elements related to D&D like enchanted rings and potions. The latter game can be played at Magical Vegas, a brand that has a number of exclusive titles.
Demogorgon
People love to roleplay. A piece of research from the North Carolina State University recently came to the conclusion that all gamers do it to some extent, and it goes much further than simply donning the mantle of Dragonborn in an (RPG) like Skyrim. Given several options for progression, players will choose one that suits their character's fiction up to 70% of the time.
Even minor things, like finding shelter when it snows or sleeping only at night, represent a decision made for the sake of role-playing.
It's a little bit surprising then that the traditional role-playing experiences such as Dungeons and Dragons, Warhammer and Shadowrun, never quite caught on in the same way as Skyrim did, especially given that the officially licensed video games, like Baldur's Gate, Neverwinter Nights, Sword Coast Legends, and nearly eighty others (according to Wikipedia) are an almost guaranteed success.
Perhaps it's the necessity of having several friends interested in the experience; perhaps it's just uncool to imagine tales of a Demogorgon ravaging the Forgotten Realms. There have always been significant barriers to entry involved in real-life D&D but a new multiplayer virtual reality (VR) title is hoping to get a new crowd on board.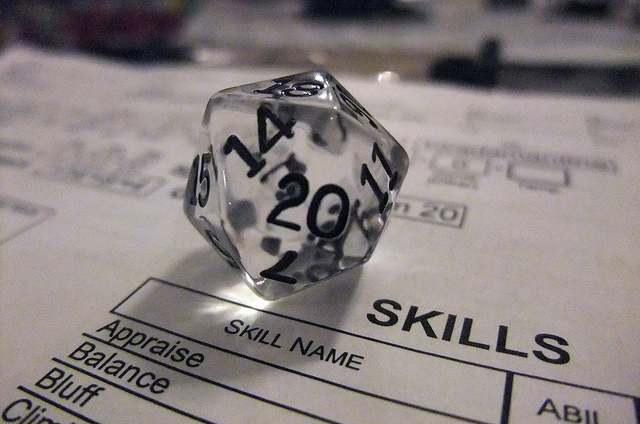 "d20" (CC BY 2.0) by janetgalore
The Oculus Rift and VR D&D
Created by AltSpaceVR, D&D VR is designed to provide an accompaniment to game night rather than forcing players to act out a pre-scripted fantasy, like the above spin-offs. It creates a "space" – in this case, a tavern or dungeon – for players to stage their own custom campaigns, complete with avatars, functionality for third-party environments, and the ability to open a web browser in-game.
Ultimately though, players will still be sat around a table, rolling dice and moving miniature characters around. The concept isn't new – it's almost identical to the experience offered by virtual casinos like SlotsMillion, a provider of more than 40 different VR slot machines – and will face many of the same challenges, not least of which is ensuring that random players behave in multiplayer games.
According to Vice, the Oculus Rift's low resolution makes hard work of reading anything in-game while the supported avatars are a long way from the elaborate creations concocted by players. The latter issue is consistent across most VR experiences, with even triple-A games like Crytek's The Climb deciding against rendering the player's body in-game.
Difficulties aside, it's arguably one of the most exciting developments in VR, and one that could help break down a few walls as far as social interactivity is concerned. After all, the true potential of virtual reality headsets is in transporting players to places and people they normally wouldn't be able to reach. Faerûn, for all its liches and owlbears, is still a little more exciting than a rainy evening in the inner city.