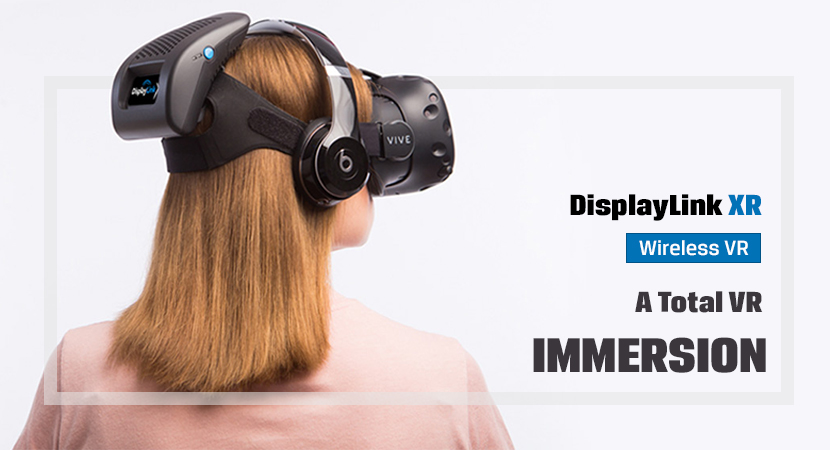 Since 2003, DisplayLink has provided us with solutions to enable connectivity between various devices, virtual reality head-mounted displays (HMD's) and computing devices over standard interfaces such as USB and Ethernet. It has never failed to surprise its clients and customers with its exciting inventions and innovations over time.
This time, the company has come up with its latest multi-user capable DisplayLink XR Wireless VR Solution delivering 78% more pixels on the HTC Vive Pro and Vive Wireless VR Adaptor. It promises to provide the highest resolution Vive Pro over a single 60 GHz WiGig channel.
The DisplayLink XR Wireless VR promises to give a fully immersive, cable-free experience to its virtual reality users. Whether it is to support the latest studio titles or the multi-user VR systems, DisplayLink always continues to deliver the best VR experience that its users demand. DisplayLink's latest DL-8020 chipset in the new DisplayLink XR Wireless VR provides a complete wireless freedom for a totally immersive VR experience.
John Cummins, Senior Vice-President Sales, and Marketing at DisplayLink says, "VR is moving at a staggering pace pushing the industry to ever higher levels of graphics processing, ultra-low latency, and super high resolution. DisplayLink's solutions scale to remain at the forefront of these developments providing the freedom of Wireless VR for the most demanding single-user and multi-user gaming, and commercial applications."
It has been clearly visible over years that DisplayLink has a big role in pushing the VR industry forward. The enterprise technology helps in increasing the productivity and the ease of use in the multi-display workspace. It is being deployed to millions of users through globally branded PC products.
One must at least once try this latest innovation by DisplayLink, the DisplayLink XR Wireless VR, to enjoy and experience a great cable-free virtual reality immersion.